Make a big change in your lifestyle by getting lean, fit strong and your best health
The rules:
No sugar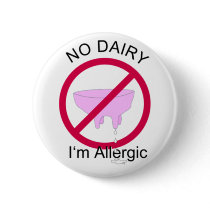 No dairy
45 minutes of exercise daily
A portion of salad greens once a day.
I wanted to join in badly but I also doubted myself. Although I missed the deadline in participating (which sucks because there is an awesome prize in store for the winner), it does not hurt to give the challenge a try.
So earlier this week, I made a few purchases in the local grocery store:
Unsweetened soy milk
Cheddar flavor vega slices (in replace of cheese)
and a whole bunch of fruits.
I am allowed:
honey
stevia
and occasionally pure maple syrup to sweeten my food (and possibly my life).
I started yesterday and to implement the new rules, and a healthy salad was served with dinner:
Very green! It was taking over the whole plate.
Mixed spring salad greens with grape tomatoes and balsamic vinegar and EVOO; Baked breaded Tilapia (homemade not from box) smeared with horseradish seafood sauce; 1/2 cup of brown rice.
I love this seafood sauce, it's only 20 cal per 2 tbsp and it's delish!
Every morning I have my regular cup of joe in my trusty snazzy red warming commuter mug.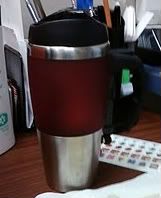 And I was worried how my coffee would taste with soy milk and honey. Regularly I have it with skim milk and a teaspoon of sugar. But it surprised me how having it the non-dairy and non-refined sugar version was pretty good as well. A tad bit different, but good.
In the workout department, my body is still aching from the other night's Cardio X (mostly my back muscles). I am still not on my regular P90x program because I'm waiting for my
training partner to heal
and hopefully we can restart next week. I am NOT forcing myself to do 45 minutes everyday as of the moment until we restart P90x. My main priority is my DD and she basically eats up all my time. So until next week, there's going to be a lot of mother and daughter bonding every single moment of the day (except when I'm at work).
To sum it up, the next 8-weeks is definitely going to be interesting. I want to know my capacity and will-power so you might wanna stick around to find out if I make it through.
If you want to read about Sammie's challenge check out her
blog
.
Stay tuned as I have a random post for you guys. It's pretty revealing and possibly embarrassing for me, but I think it will be good. Enjoy your weekend!