Hi everyone...
Today was a hard day, emotional and motivational wise. I've been very moody (it might be that time of the month v. soon), hungry, cranky and lazy!!!
I came home from work and I was starving even though I had my usual snack of KASHI bar and fruit (today was kiwi). So I had an early dinner ahead of my family and ate leftovers. But I found a box of chocolate drumsticks in the freezer and gave in! I felt SOOOOO bad....
My DD was very cranky as well (she had a short nap) and I went through a battle feeding her dinner. That made me so unmotivated to do anything and I skipped BOOTYCAMP. This is the first time I didn't go to class just because I didn't feel like it.
So, of course, I was feeling extra guilty due to my treat and lack of exercise. My hubby was so nice and offered to run a 5k with me, which we haven't done in a while due to my busy schedule.
All dressed up for an outdoor run! I tried looking excited but I felt like crap inside...
It was a beautiful night. The air was cool but not freezing. It was beautiful seeing all the fall colours in our neighbourhood. There is an intersection down the street from our house that has four Maple trees on every corner and it was so much fun running through the crispy yellow and orange leaves each time. We ran around the block 5 times which made it a 5k or 3 miles.
After the run I felt awesome! I was pumped to do some ab workout. I particularly love doing Ab ripper X from the P90x program (which I plan to do this November). But before I could even take my sweater off, I started sneezing consecutively. Then my nose itched like crazy (it still does) and started running like a faucet. I tried ignoring my runny nose while I did Ab ripper because I didn't want to lose my new found motivation.
After the run and ab ripper, I felt amazing! Well, except for the sneezing and a faucet-like nose.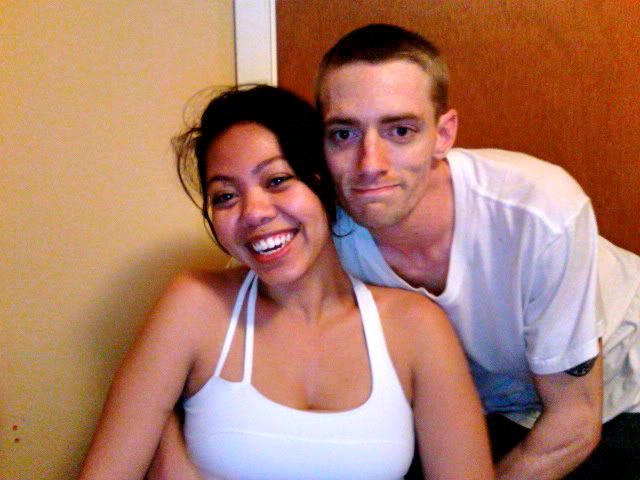 My hubby joining me in my post-workout photobooth pic. I wouldn't have sweat today if it wasn't for him!
Now, as I'm sitting here typing, my nose is still running like a faucet and I have my tissue box close by. I feel totally fine otherwise which makes me seriously think I'm allergic to FALL!!! Last spring, I had the same symptoms that lasted till summer and my doctor said it was just allergies and gave me some nose spray. I seriously can't believe I'm totally allergic to nature. FALL is so beautiful and I was sooo looking forward to running every other night after BOOTYCAMP ended. But, I will still try running outside later this week and I'm hoping that my run tonight and my runny nose was just a coincidence.
I hope you guys enjoy the rest of the week and the beautiful FALL weather.