Last Friday, I found myself at home at lunch with nothing to eat. If my hubby was home, he would suggest a peanut butter and banana sandwich, but I wanted something more exotic than that.
So I searched the cupboards and fridge for something I can whip up in a breeze. I found some couscous and a can of chickpeas and the magic started from there! I love experimenting with food and I got excited because I have never cooked chickpeas with couscous before.
I have heard or seen it on TV and this was my chance to make it my own. I always have tons of spices available and I thought that cumin and ground coriander would go well with it.
Anywho, Here's my recipe for

Spicy Chickpeas and Couscous
:
Ingredients: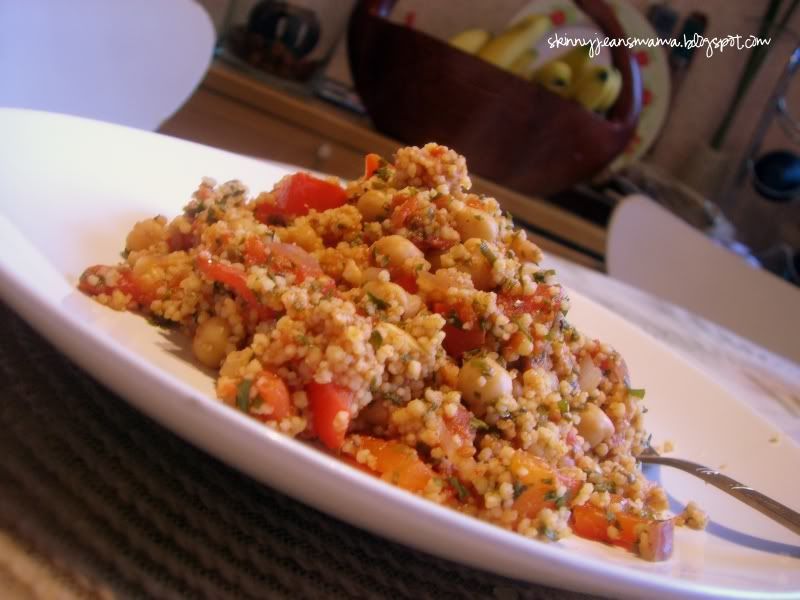 2 cups of couscous
1 can of chickpeas, rinsed and drained
1 can of diced tomatoes
1/2 sweet onion, diced
3 to 4 cloves of garlic, chopped
1 red bell pepper, diced
1 bunch of cilantro, finely chopped
1 tsp. of sweet paprika
1/2 tsp. of cayenne pepper
1 tsp. of cumin
1 tsp. of ground coriander
1/2 cup of chicken or vegetable stock
salt and pepper to taste
Spray a medium saucepan with Pam and set to medium high heat. Once hot, saute the onions and garlic until the onion are translucent about 3-5 minutes.
Add the bell pepper and all the spices and saute for a few more minutes until its fragrant and there are bits stuck at the bottom of the pan.
Add the stock to lift the flavors and get the bits out using a wooden spoon. Add the tomatoes and stir and cover and turn up the heat for it to boil.
When it is boiling, turn down the heat and let it simmer for about 5 more minutes.
Take it off the heat and add the couscous and stir and cover. Leave it for about 10 minutes or whatever it says on the couscous box.
After letting it sit, fluff the couscous with a fork. Add your chickpeas and cilantro. Add salt and pepper to taste and stir it all up.
Enjoy your yummy and spicy Couscous and chickpeas!
Now I don't know how low calorie or low fat this is but I think based on the ingredients and style of cooking that this is pretty healthy and won't ruin any diet unless you have too much. You can make this recipe your own by adding veggies that you like.
I only happen to have lettuce, eggplant and peppers in my fridge that day. So I thought I'd add the bell peppers. Zucchini, carrots or any veggies that holds their shape after cooking will be great for this dish.
Also, I really like my food spicy, so when I actually made this, I used almost a tsp. of cayenne. This is something you can play with to suit your spicy taste buds.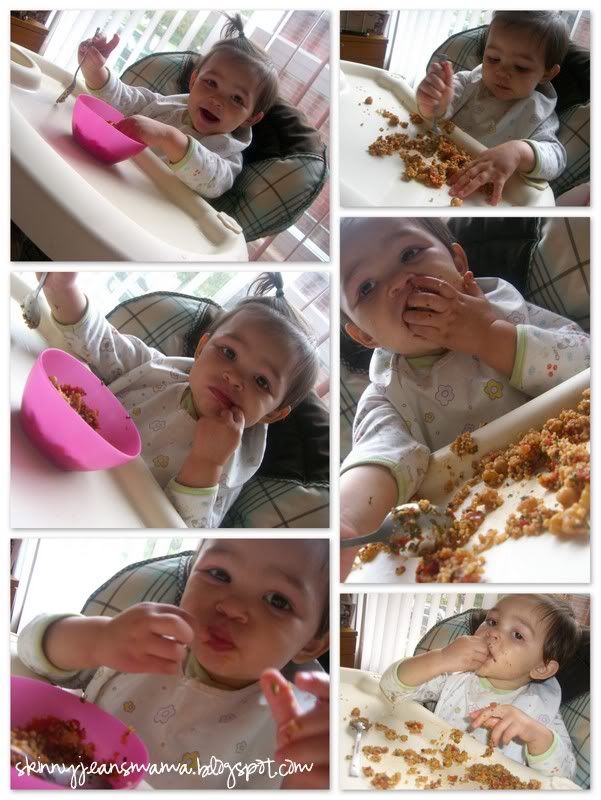 My DD loved this even if its a bit spicy and I was surprised that the spiciness didn't bother her at all. Once, I made homemade pad thai and she had no problem gobbling it up. Then halfway through dinner, she started crying and sticking her tongue out. I guess the spiciness caught up with her and she doesn't like rice noodles ever since.
I hope you can try this dish and let me know how you liked it!!!